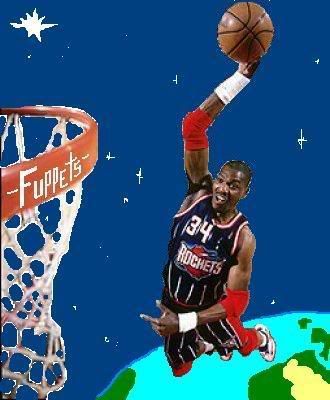 Yesterday was the 25th of May. Sixteen years ago yesterday, the greatest basketball player ever to put on a Rockets uniform was awarded the National Basketball Association's
Most Valuable Player
award. The Houston Rockets were in the middle of a hard-fought series with the Phoenix Suns, and were soon to engage the New York Knickerbockers in a 7 game trench war for the NBA Championship.
The tiny gnome who came to Houston to award the MVP trophy to Dream was actually the NBA commissioner, Daniel Stern. In a show of Hakeem's tremendous goodwill and love of his teammates, he asked that the entire Rockets roster be with him as he accepted the MVP award, and specifically commented that he could not have won that award without his teammates and his coaches. This is something that many MVP's pay lip-service to, but Dream truly meant it and the smiles on his and his teammate's faces show this. In fact, Hakeem in the 1993-1994 season did something remarkable. He won NBA Defensive Player of The Year, NBA Most Valuable Player and also won NBA Finals Most valuable Player. In other words, Hakeem Olajuwon spent the 93-94 season providing dominating butt-whuppins to the entire NBA.
-FUPPETS-
says "Thanks for the memories Dream!"