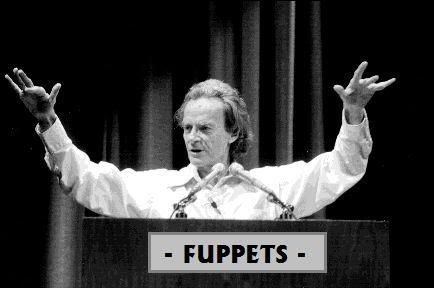 -

FUPPETS

-
adores the sciences.
-

FUPPETS

-
wishes everyone else did too. It would help prevent the mass hysteria that occurs
every time
some new discovery is announced. People are such idiots. What is the old saying?
"You know how dumb the average person is, right? Well, half of them are even stupider than that!"
It's the sad truth, and
-

FUPPETS

-
has come to grips with it. Due to this,
-

FUPPETS

-
has decided to devote one entire
-

FUPPETS

-
For Readers to just science articles. Read. It is your brain's only way to stave off mediocrity.
THE STATUS QUARK - Murray

Gell

-Mann reflects on matter's building blocks and scientists' resistance to new ideas
- (
Tom

Siegfreid
-
Science News
)
SCIENTISTS PROPOSE LAB-GRADE BLACK HOLES - New method may uncover fundamental physics properties
- (
Laura Sanders
-
Science News
)
WILL KEPLER FIND HOSPITABLE MOONS?
- (
Science Daily
)
INJECTABLE

BIOMATERIAL

REGENERATES BRAIN TISSUE IN TRAUMATIC INJURIES
- (
Science Daily
)
COMPUTER ALGORITHM TO DECIPHER ANCIENT TEXTS
- (
Ari

Rabinovitch
-
Reuters
)
ISRAELI

ARCHAEOLOGISTS

FIND ANCIENT FORTIFICATION
- (
Jen Thomas
-
Associated Press
)