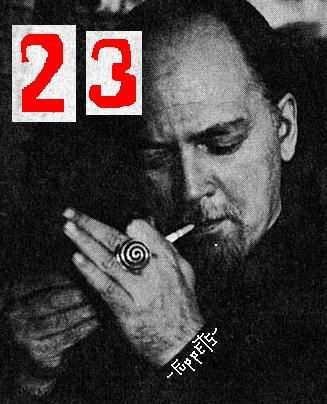 Robert Anton Wilson
would be proud, for
-FUPPETS-
has reached the
23 Skidoo
plane of existence, as far as the
-FUPPETS- For Readers
section is concerned. All you ignorant bastards have nowhere to hide now. Your very own Castle Perilous is soon to appear to your weak mind, crushing all semblance of self you may believe you have attained. Remember, you only have one mind. Use it or lose it.
HOW DOES OUR LANGUAGE SHAPE THE WAY WE THINK?
- (
Lera Boroditsky
-
The Edge
)
The Politics Of The Hidden Agenda : Spreading conspiracy theories – stories about a world warped by evil forces – remains the pastime of marginalised groups. But conspiratorial thinking, the idea that someone, somewhere is to blame for every misfortune, has become respectable.
- (
Frank Furedi
-
Spiked
)
Woman Power : Regimes that repress the civil and human rights of half their population are inherently unstable.
- (
Anne Applebaum
-
Slate
)
Daredevil : Riding motorbikes without a helmet, flying planes while half asleep — not to mention discussing books he'd never read and using words he didn't understand — William F. Buckley courted adventure in all that he did. Here, the conservative godfather's onetime protégé and longtime nemesis fondly recalls their friendship—and argues that Buckley was not the snob many thought him to be.
- (
Garry Wills
-
The Atlantic
)
Party Animals: Early Human Culture Thrived in Crowds
- (
Jeanna Bryner
-
Live Science
)