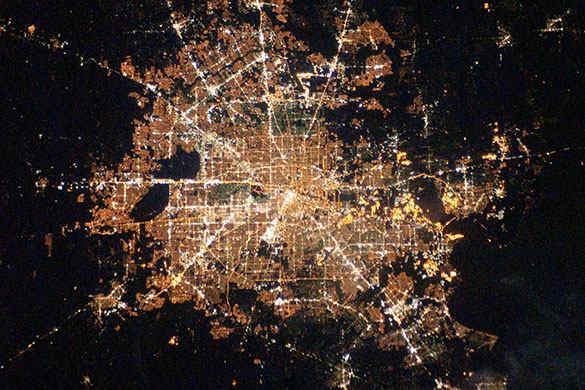 Many thanks to
Sozavac Instigator
for providing
-FUPPETS-
with the link to this great image. Here is the caption for the image, from The Guardian UK.
Houston, do we have problem? This night time image shows the lit-up 60-mile wide Texas city. Houston is home to five million people and is the largest area in the US without formal zoning restrictions on where and how people can build. This freedom has led to a highly diverse pattern of land use. The city has been called the energy capital of the world due to its role as a major hub of oil and power industries. - ( Guardian )
-FUPPETS-
was always informed that Houston, when seen from a bird's-eye view, looked like the splatter of an egg dropped from a great height. Houston is, as stated above, 60 miles wide, which is a very big city indeed. In many areas of the country, from the Midwest to the Northeast, driving 50 miles will take you through several cities/towns! In Houston, it may not get you to the airport.