-

FUPPETS

-
would like to showcase the great players and owner about to be inducted into the Pro Football Hall Of Fame in Canton, Ohio this weekend.
Bob Hayes (

WR

)
- Cowboys, 49
er's
: The only man ever to win an Olympic Gold Medal and a Super Bowl, Mr. Hayes was truly a gifted speedster. In the Olympics he
medaled
Gold in the 100 meter dash and the 4 X 100 meter relay, earning the nickname World's Fastest Human, for all his records. The Cowboys drafted him to be a Wide receiver and to this day, Hayes holds ten regular-season receiving records, four punt return records and twenty-two overall franchise marks.
On
September 18, 2002 Bob Hayes died of kidney failure after battling prostrate cancer and liver ailments.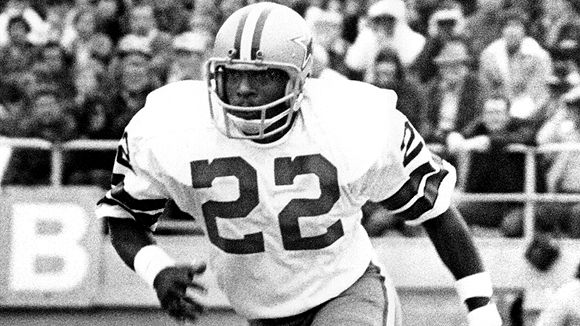 Randall McDaniel (G)
- Vikings, Buccaneers : One of the greatest offensive linemen to ever play the game, Mr. McDaniel was not just chosen, but started 12 consecutive Pro Bowls, and started 202 consecutive games in his career. Offensive linemen are not very glamorous, and they never get headlines and media praise, but his teammates and his opponents knew what they had to contend with when Randall McDaniel stepped up to play.
Bruce Smith (DE)
- Bills, Redskins : Mr Smith was one of the truly scary and great defenders in the history of the NFL. He led his team's defensive attack, helping take them to 4 consecutive Super Bowls. He was twice named the AP Defensive Player Of The Year, and was a near perennial Pro Bowl pick. He retired with many team records as well as the
NFL's
record for most career sacks (200).
Derrick Thomas (LB)
- Chiefs : A monster blitzing linebacker, Mr. Thomas was drafted in 1989 by the Kansas City Chiefs and remained with them for all 11 of his NFL seasons. He retired holding the Chiefs records for sacks, safeties, fumble recoveries, and forced fumbles. He holds the NFL record for forced
fumbles
in a career (45), and most sacks in a game (7). Derrick Thomas died on February 8, 2000 as a result of a massive blood clot which lodged in his lungs a couple of weeks after he was paralyzed from the neck down in a terrible automobile accident.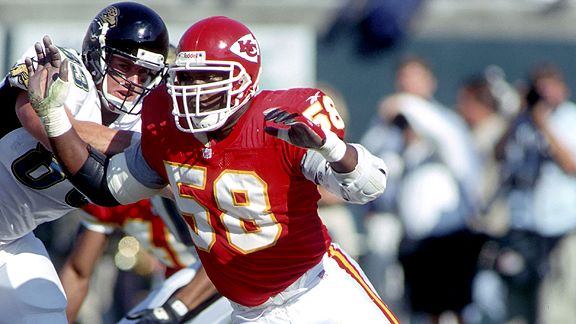 Ralph Wilson Jr. (Owner)
- Bills : Originally a minority owner of the Detroit Lions, he jumped at the chance to own his own franchise when Lamar Hunt tossed around the idea of starting a new football league, the
AFL
. He is one of only two
original
AFL
owners to still own his team, the other being the hateful and hated Bud Adams. His Jim Kelly-led Bills reached 4 consecutive Super Bowls, a feat never before achieved, but lost all of them.
Rod

Woodson

(CB/SS)
- Raiders,
Steelers
, 49'
ers
, Ravens : Mr.
Woodson
holds the records for career interception return yardage (1,483), interception returns for touchdowns (12), as well as having the 3rd most career interceptions (71). He was voted NFL Defensive Player of The Year in 1993. His 2000 Ravens team won Super Bowl XXXV.