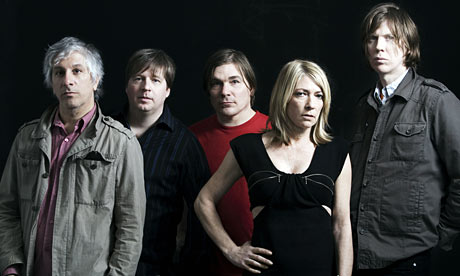 -FUPPETS- house band, SONIC YOUTH, is about to drop their latest full-length album. Entitled THE ETERNAL, it will be released this week, and already is receiving much praise. Having added former Pavement bassist Mark Ibold to the line-up, they have constructed an album a bit freer than the last two, which were released under their old Geffen contract. Signing with indie stalwarts Matador Records, they have gained a new freedom to skronkify to their hearts' content.
Since -FUPPETS- is extremely overjoyed to have a new Sonic Youth album to melt the ol' brain with, here are some Sonic Youth related links for you.

YOUTH MOVEMENT: It's been nearly 30 years since Sonic Youth first blew the minds of music fans - and they're not flagging. The art-punk heroes talk to David Peschek
- ( The Guardian )

Next week (June 7 - June 13) will be SONIC YOUTH WEEK over at Pitchfork.tv! -- On June 8 and 9, we'll start out with the two-part Sonic Youth episode of A>D>D, the Pitchfork.tv show that captures bands in all the grainy glory of analog VHS equipment. On Wednesday, June 10 and Thursday, June 11, we'll run our two-part interview with the band, conducted by Pitchfork writer Nitsuh Abebe. On Friday, June 12, we'll have a video playlist curated by the band. Did the rest of the group let Thurston pick all obscure black metal and mind-shattering noise? Tune in to find out!

SONIC YOUTH played a BBC television show titled Later. . . with Jools Holland, and performed two songs off the new album. Enjoy them here.

ANTENNA



WHAT WE KNOW