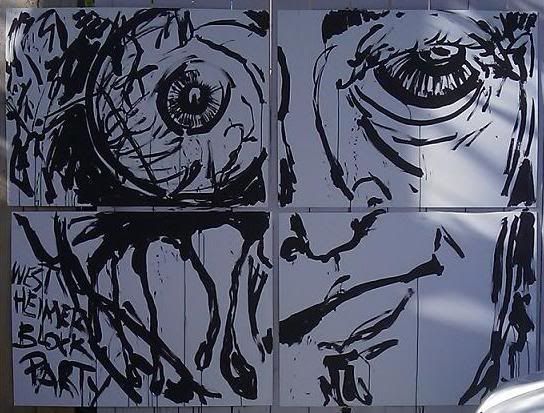 This past Saturday was the bi-annual
Westheimer Block Party
, which is getting bigger and better every time. The great people over at
Free Press Houston
put on this all day festival of music, sights and people over a 4-5 block area of upper Westheimer.
The founder of FPH, a bad-ass mo-fuck named Omar, was seen running around from very early in the morning making sure everything was set up. At Noon, bands on 6 or 7 separate stages started things off.
According to the po-po estimates, around 11,000+ attended this spring's event. That is a jump of about 3,000 from last Fall's event. This is the view near one of the outdoor stages, in the parking lot of Avant Garden.

Having witnessed the death of the old Westheimer Arts Festival, it is very heartening to see the amount of people that come out to support this new Block Party.

A few Highlights & Memories Of The Day:

-Inside Mango's, at Noon, LadyHeat played a fucking raucous set to get things started just right. I hope each band brought their own microphone cuz the singer of LadyHeat was shoving that mic into his pants and rubbing it on his crotch like he had an itch to scratch. Great energetic set. Too bad there were only like 13 people in Mango's at the time. Below is the LadyHeat singer in full heat.


-Near the large stage between Numbers and La Strada, a booth was selling sausage on a stick, hamburgers, buffalo burgers, vegetarian burgers and "MouthJoy," an amazingly delicious blend of homemade lemonade and pureed strawberries. Waiting in line for a sausage, a cute Indian girl was seen getting her veggie burger, taking a bite and looking at it incredulously. She asked if the guy was sure it was not real meat, was assured it was not, and went on her way to a booth she was running. Ten seconds later she came back, having taken a few more bites, and asked again if it was veggie. The dude running the stand told her it was a Boca Burger and that they had two grills going, one for meat and one for veggie. She did not seem to know what a Boca Burger was, so he showed her the box. She analyzed the box and the ingredients list like it was an IRS form, and left satisfied yet still unsure. As she left, I asked "what was up with that?" and the dude replied "I guess they tasted too good." That is a prime advert for Boca Burger if I ever saw one.
- The weather was just perfect. PERFECT. Every few seconds a cool refreshing breeze would blow by making sure everyone stayed in a great mood.
-At the stage in front of Mango's, one of -FUPPETS- favorite performers forgot his magic hat and wizard robes, but nonetheless proceeded to tear through some righteous noise skronk. His name escapes, but he is one of the Super Happy Fun Land's resident nuts. (*EDIT, Sozavac Instigator says his name is MUZAK JOHN) He drew a very interesting mix of skronk-heads and little children. The little children had their mind's blown and it brought a tear to the eye. His finale was a truncated cover of the South Park theme song, for the kids, you know. Check it.


-Impromptu sets were rockin in front of the Austin Layne Hotel and in front of the defunct porno store next to Numbers, as well as one guy rocking a skronk set from the back of his pick up truck in the parking lot of La Strada. DIY motherfuckers!!!!


-While waiting to cross the street at Westheimer and Taft, the Instigators saw a projectile heading our way from across the street. Reaching out to try and catch it was a bad idea as the water balloon (as it turned out) exploded and covered all of us with pinkish water. Looking down and noticing a box full of confetti-filled eggs and water balloons, I bent down to grab one for some sweet revenge when a loud, overly-tough voice bellowed "Drop it! Drop it now!" Upon looking up, one of Houston's Finest grabbed the box and confiscated it. Ahhh, stifled revenge.
-There were so many bands , so many people, so much jail-bait (ha ha!), so many sights/sounds/smells etc. . . . It was a wonderful time.
-Around 2:30 PM I went out and commandeered a section of fencing behind the Number's outdoor stage, and preceded to make a drawing with India ink on board to help decorate the area. That drawing is the first image in this post. It was a quick ten minutes of guerrilla art, and I was done. It was very cool to see people checking it out and taking pictures of it and with it, and not only that, but when the wind knocked down parts of it, people were kind enough to put the pictures aside so they would not be damaged. When I came back around to check on the drawing, I put it back up on the fence.

There's much more as it was a full day of fun. Here is a slideshow on Flicker of pictures from the Westheimer Block Party.