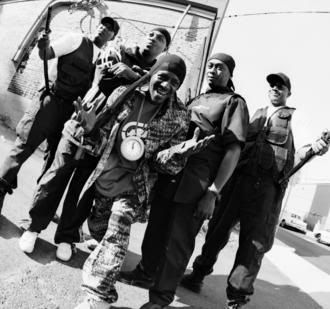 +
The Philly homeboys
The Roots
will be holding their now-annual
ROOTS PICNIC
on June 6 at Festival Pier in Philadelphia.
The band will play two sets at the festival, opening and closing the festival. And as Billboard reports, along with Antibalas, they will also back Public Enemy-- another one of the greatest live rap groups ever-- as they do their masterpiece It Takes a Nation of Millions to Hold Us Back in its entirety. - ( Pitchfork )
-FUPPETS-
loves some
Public Enemy
and some
Roots
and it would be an insane show to catch, to hear the entirety of
IT TAKES A NATION OF MILLIONS TO HOLD US BACK
performed with the Roots kicking out the jams. There is no way to know how they will recreate the cacophony and insane skronk squalor, sirens and all, of the P.E. masterpiece.
-FUPPETS-
hopes someone records this thing!
PUBLIC ENEMY - Night Of The Living BaseheadsTHE ROOTS - 100% Dundee